SIZE CHART:
| | |
| --- | --- |
| Recommended Sizes |  Estimate only |
| 50cm | Up to 15 lbs / 6.8 kg |
| 60cm | Up to 25 lbs / 11.3 kg |
| 70cm | Up to 35 lbs / 15.8 kg |
| 80cm | Up to 45 lbs / 20.4 kg |
| 100cm | Up to 100lbs / 45 kg |
| 110cm | More than 100 lbs / 45 kg |
US' HIGHEST RATED PET BED
🏆 2019 HIGHEST RATED PET BED – BEST DOG BED
Did you know over 20 million pets only in the US suffer from anxiety?

The cause for this anxiety is often fear of separation. Dogs and cats simply don't like to be left alone. And we all know a short period of separation from our furry friends can feel like months to them! (that's why we get so much love when we come back home every day).
🐾So, how we can help to stop this awful anxiety feeling?

The secret in this bed is that it actually mimics the cozy comfort of a mother's fur coat ❤  Your pet will feel at ease, safe and protected when returning there.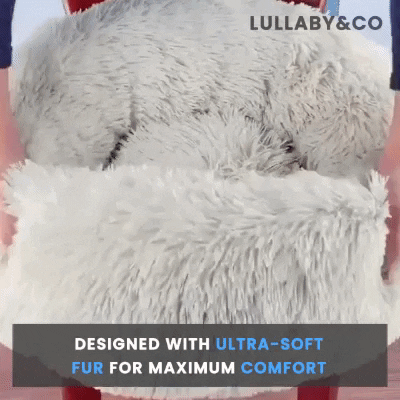 🐾
Get your fur kids the Calming Bed today

 
and let them rediscover good night's sleep! Our Calming bed was designed to help with anxiety. 
🐾Proven to ease anxiety – The Lullaby Calming Bed™ raised rim creates a sense of security, the nervous system reacts in a positive way which allows your pets to calm down faster, relax easily, and sleep better.

🐾Extra comfy – The best choice for dogs and cats who love to curl up! The bed structure provides head and neck support, while the super-soft filling offers joint and muscle pain relief.

🐾 Ultra-soft vegan fur fabric – Our bed is made from ultra-soft vegan fur, one of the comfiest materials out there. Is what baby blankets are made from!

🐾Versatile and luxury design – The Lullaby Calming Bed™ is a great addition to the interior design of any home.

🐾 Easy to clean – Our beds are safe in the washing machine and dryer (Machine wash, gentle cycle. Tumble dry, low heat).
🐾We also recommend you measure your dog when it curls up, you should then be able to get an indication as to which size is perfect for your dog.
Please, when making a decision take into consideration your dog's weight
and
size. Please order a size up for more room if this is what your dog prefers.