MEASURE & DUPLICATE ANY SHAPE INSTANTLY!
This contour gauge gives you the ability to transfer corners and contours easily and accurately.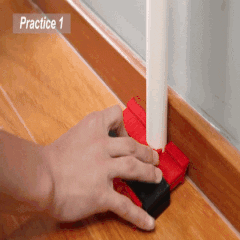 This profile gauge can be used to measure the shape of irregular items to create an instant template for marking precise cuts as it perfectly conforms to shape and holds its pattern.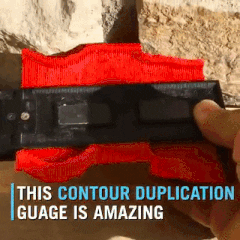 With its ease of use, copying a profile has never been this easy. Use to quickly duplicate difficult or intricate shapes 
Copy shapes to tile, laminate, engineered wood, solid wood, and vinyl flooring to precisely cut flooring to match objects.
SIMPLE TO USE: Contour gauge duplicator is used to locate profiles or edges and accurately transfer to the material to be cut. Simply press the tooth against the object to match the contour and then track the shape you need.
MULTI-SCENE APPLICATION: Designed for winding pipes, circular frames, ducts, and many objects, Ideal for fitting tiles, laminate, carpet, checking dimensions, molding, etc. A useful tool for operations on car bodies, carpentry and for all kinds of modeling.

 HIGH QUALITY& EASY TO CARRY: The contour gauge is made of high-quality resin material, crocking resistance, high strength, rustproof and durable. High definition laser cutting line, clear, easy to read and easy to read.
SPECIFICATIONS:
Material: ABS 

Measuring range: 0 – 120 mm

Scope: 0 – 120 mm

Size: 14.6 x 10.5 cm