No more blinding lights at night!
Have you ever used the bathroom in the middle of the night? But when you returned to bed, you found it hard to go back to sleep?
That's because you turned on a bright light, tricking your body into thinking it's daytime.
The solution? A night-light.
But you don't want just any ordinary night-light. No! Night-lights are limited to where they can be placed (outlets). And you can never place one where you need it most — your toilet! The one spot where you can easily leave a huge, wet mess.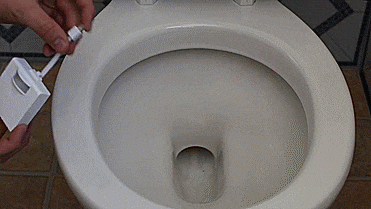 Luckily, this light, with the help of its motion-activated sensor, softly illuminates the inside of your toilet bowl whenever you go near it. And turns back off the moment you leave. Powered by just 3 AAA batteries, and easily clipped onto the side of almost any toilet, everyone can turn their bathroom into a mystical one.
And if you ever have guests over, you won't believe the looks on their faces when they see this thing… Pure astonishment.
Motion And Light Detection Sensor – The built-in motion sensor detects body heat to automatically illuminate the room when you enter and shut off when you leave at night.

8 Colors & 170 Degrees Radius – This motion activated toilet light has 8 colors that can work on a rotation or as a solid color by using the control button. 170 degrees coverage makes it detect motion a much wider angle most other toilet lights which can reach 120 degrees or lesser.

5 Brightness Level – The motion sensor toilet bowl light comes with 5 different levels of brightness control settings. It gives the toilet bowl appropriate illumination based on your choice. Controls are external facing making it easier to change the settings.

Fits Any Toilet – Soft PVC neck can be flexibly bent for more convenience, sturdy material makes it easy to stay in any shape and keep steadily.

Waterproof IP67

 – The toilet bowl light provides fully waterproof of the highest incursion protection degree of IPX7. Upgraded IP67 waterproof rating, prevent this motion-activated toilet night light damaged from splashing water and rain. Keep the internal memory chip working well, 100 % WATERPROOF GUARANTEE.
So if you or someone you know has a poor aim, or if you just want to spice up your bathroom, get yourself one of these toilet lights now!
"Yes!!! I wanted this since I saw it and I've not regretted it. I'm pregnant and getting up in the middle of the night to pee is my new job. I hate turning on the bathroom light and in effect blinding and waking myself up and I hate trying to sit on the toilet in the darkness. The adjustments for brightness and color are perfect and the light and motion sensor works perfectly." – Sally, 36, USER
SPECIFICATIONS
Material: ABS

Light Source: LED

Voltage: 4.5V

Power: 1W

Light Color: 8-color

Color: White

Power Supply: 3 x AAA Batteries (Not Included)

Sensing Distance: 

2m
Dimensions: 7 x 6.5 x 2 cm
PACKAGE INCLUDES
1 x Smart LED Human Motion Sensor Activated Toilet Night Light
NOT SOLD IN STORES! 
GRAB ONE NOW AT 50% OFF!
Please note that Shipping Time will take approximately 3-4 weeks.
SHIPPING INFO
How long will order processing take?

Orders typically take up to 7 days to process before they ship – excluding weekends and holidays. During the holidays, processing times may take up to 14 days. You will receive an email confirming your purchase with the shipping tracking number when your order is shipped out.
How long will it take for me to receive my item?

US orders will be shipped via USPS. Shipping methods for international orders will vary based on the shipping address provided.
Transit time to the US: 5-20 business days 
Transit time to international: 10-45 business days
An order takes 3 weeks on average to ship. 
There are circumstances that are out of control (natural disasters, holidays, weather, etc) that may cause shipping postponements. While most packages will arrive on time, there may be circumstances and delays that our carriers may experience. For this reason, we do not guarantee the exact delivery time; delivery issue is the responsibility of the shipping company. 
Please note that Shipping Time will take approximately 3-4 weeks.
RETURN POLICY
What is your return policy like?

We'd like to think that every customer leaves a happy customer (and we have good reason to!) but in the event that you don't, we offer 30 day money-back guarantee, no questions asked! Just our way of saying thank you for your trust!